Another trip with Elisabeth
The last two weeks of February 2013 were truly some of the most dramatic in my life, and I experienced the entire register of emotions.
The seed that had been sown one warm November day the previous year had germinated and grown into two marathons in a week. Not long after my return from the Solar Eclipse Marathon, I wrote to Kathy Loper and booked tickets, not just for me but also for Elisabeth, who once again was to join me on a foray into the world of running experiences.
Careful preparation
I had been preparing for this trip since the day I booked it. I had thoroughly acquainted myself with the kind of footwear I would need, as well as many other conditions relevant to running in the Antarctic. Among other things, I had read that, during the run in Antarctica, we could expect to run in temperatures around freezing point or perhaps slightly above. In some places, we would be running on ice and snow, while, in others, we would have undulating stone and dirt roads beneath our feet. Karin gave me a pair of track running shoes with Gore-Tex® for Christmas. I made good use of them in the months that followed, running as I did every weekend for a couple of hours in the woods at Boserup near our home. Here I was able to run on uneven and wet terrain. That winter was perfect for me because, for the first couple of months of the year, there was a good deal of snow and ice in the woods.
At Christmas, Karin also gave me a GoPro® camera to run with. The technical finesses of this tiny camera presented quite a few challenges, but I fortunately had plenty of time to test it and become familiar with it.
Not long before leaving, I had pain in my right knee and then in my back. These would later turn out to be minor problems in relation to what I otherwise had to endure.
Strike-bound airline
Just as we thought everything was in place and that we were ready to travel that coming Friday, we got the first shock on the Monday. On teletext and the Internet I read that the Spanish airline, Iberia, would be hit by strikes for five days. The company intended to make some staff redundant, while others would have their salaries reduced, and this had triggered the crisis. I have to admit that I went into something of a panic. Everything was ready; I had tested my equipment, and I was in good physical shape. Whether the trip would stand or fall depended entirely on whether we could get to South America. With such short notice, it would be difficult to find other flights, which were also sure to be very expensive.
Elisabeth and I called the airline as well as the agency where we had bought our tickets. Both were able to inform us that only selected departures were affected and that precisely our flight would leave according to schedule. It was good to hear that, but I didn't feel entirely confident all the same. You can never tell what might happen in the event of industrial action, and I feared it might develop to include other departures.
However, on the afternoon of Friday 22nd February, our flight to Madrid did leave on time. Although it was great to be on my way, I was still not entirely at ease. I could just see us being stranded at the next airport and not being able to get any further.
Thankfully, things didn't go wrong. After a few hours in the Spanish capital, we boarded our flight to Chile, and as the wheels left the runway, I was finally able to breathe a sigh of relief. Now nothing could go wrong. As the plane climbed into the air, it turned midnight, and it was my 54th birthday.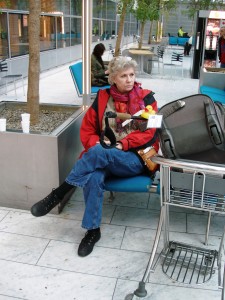 Missing suitcase
We didn't have much time in Santiago, which made things a bit tricky. We landed at 9.40 a.m., and because our next flight left at 11.20, we really had to hurry to get hold of our baggage. Elisabeth's suitcase turned up immediately, but we waited for a long time for mine. We subsequently discovered that it had actually arrived so quickly that someone had taken it off the baggage conveyor and put it down somewhere out of sight. It took ages for me to find, by which time we had been rebooked to a later domestic flight.
Finally in Punta Arenas
After a stopover in Puerto Montt, we arrived in Punta Arenas in the late afternoon. We had met four Americans on the way and now decided to share two taxis to our hotel. There wasn't much room with all the baggage and Elisabeth, and I ended up on the back seat with two suitcases. The driver had to slam the door to shut it.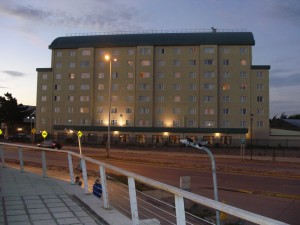 The Hotel Diego De Almagro was an excellent place, and we got a lovely room with a view of the sea on the seventh floor.
We were given our running bags on arrival and arranged to go out and eat together with some of the others. The others wanted to walk, but we had to take a taxi for the sake of Elisabeth. When we arrived at the restaurant, we couldn't find the others, and we later discovered that they thought we weren't coming anyhow and had gone into another restaurant along the way.
Birthday dinner
It turned out, however, that the restaurants didn't open until later, so we found a place where we could enjoy an aperitif while we waited. We later went on to the Restaurante Detalle De Cuenta, an exquisite eating place, and had tasty steaks with good red wine.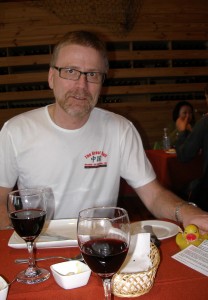 While we were eating, somebody knocked on the window. It was Kathy Loper and about ten of her tourists, none of whom I knew. I ran outside, and as I gave Kathy a big hug, everybody started singing "Happy Birthday". That was so nice.
Celebrity
Sunday, we went to have a look at the town on our own, joining the others later on for the obligatory pasta with meat sauce. As I walked into the restaurant, an American lady came over and asked: "Are you Mr Great Wall of China?" I was rather surprised, but had to confirm her assumption. During the days that followed, it turned out that there were a lot of people, who knew me, whom I didn't know. Each of them had their own little story of how they could remember me from their trips to China.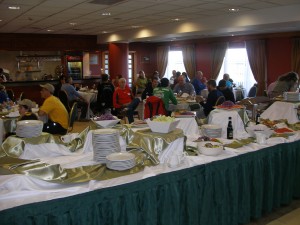 Marathon Adventures
After we had eaten, we gathered for a briefing in a room next door. The two marathons were organised by Marathon Adventures, not to be confused with the Albatros subsidiary with the same two words backwards. Marathon Adventures is owned by a guy called Steve Hibbs. Kathy and Steve had met at The Great Wall Marathon 2012, where both were travel agents. Steve had told her about his marathon plans, and Kathy had joined him in a collaborative effort. This collaboration had been decisive to the realisation of this event. We were about 70 travellers, more or less evenly distributed between Kathy Loper Events and Marathon Adventures. About two thirds of the participants of the trip would be running the marathon, with the remaining third running the half-marathon. Apart from those appointed as officials, Elisabeth was the only person who would not be running.
The plan was that the next day we would run the White Continent Marathon followed by the Punta Arenas Marathon three days later. Running in the Antarctic was unlikely to be unproblematic. I had heard the story of a group that ended up running round the deck of a small Russian icebreaker to secure precisely this continent as part of their collection. As it would turn out, these runners were not alone in facing challenges when it came to the marathon on Earth's southernmost continent.
Gobsmacked
Steve's first words to us were: "We're not flying to the Antarctic tomorrow". You could have heard a pin drop. Everybody was gobsmacked. I actually believe that, as a foreigner among a majority of Americans, I had not properly understood his words. But his message was right enough.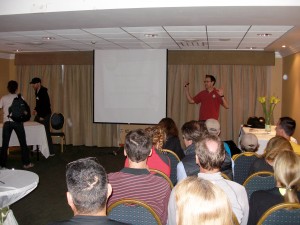 King George Island, where the run was to take place, was fog-bound, and since safety naturally came first, the airline had announced that it would be unable to fly there on 25th February.
We were all shocked, but composed. The organisers had not been paralysed either and had rearranged the schedule for the following days. We were asked to turn out on Monday morning as there was at least a minimal chance of being able to run the marathon.
Isla Magdelena
On the Monday, we got out of bed on the day on which this exceptional marathon should have been run but wasn't. The paper-thin chance of being able to run anyway had come to nothing.
In the late afternoon, we were driven by bus to the harbour, where we sailed to Isla Magdelena, a 1,575 square kilometre island with the status of a national park. It was a long trip. We began to wish we had brought a Yatzy beaker or cards with us, but as it turned out, the boat trip really was worth it. The island was teeming with penguins, and there were quite a few seagulls there too. It was a fantastic sight. We walked around and had a good look. Elisabeth also had an enjoyable walk, even though she had to remain near the boat.
Hope
On the way back, several people had been on the Internet and had ascertained that weather conditions on King George Island were fine. Weather forecasts and webcam images presented only good prospects. We were all happy and expectant in our belief that we would be running the White Continent Marathon the next day.
Yet another disappointing delay
At midnight, we all gathered for a briefing. We had had to wait for quite some time because the briefing was delayed time after time. Although this could easily have been perceived as ominous, many of us were full of optimism all the same. This would soon evaporate. The King George Island run had been delayed once more and this time, no immediately reasonable explanation was given. Steve had been engaged in lengthy discussions with the airline, but to no avail. We were all upset, frustrated and perhaps even a little angry. Thinking back on events with all the emotional aspects at a distance, I have to admit that airlines are undoubtedly far better judges of aviation weather and landing conditions than marathon runners. We now went to bed assured of the fact that next morning we would be running the Punta Arenas Marathon.
On the Tuesday morning, we got up to run the marathon two days earlier than originally planned. Never before had I got out of bed to run a marathon and experienced doing so as an anti-climax. That's how it was that day, however. I had been looking forward to running the marathon in South America with high expectations and the thought of the run in Antarctica coming to nothing was unbearable.
Exultation
At the start of the Punta Arenas Marathon on the Tuesday morning at 8.20 a.m., Steve asked us if we were ready to leave for the Antarctic. Everybody cheered wildly. The weather forecast for King George Island was good, and we had to be prepared to leave at any moment. This meant that we might need to interrupt the day's marathon early to travel to another continent to begin another marathon. It was a really weird way to begin a marathon.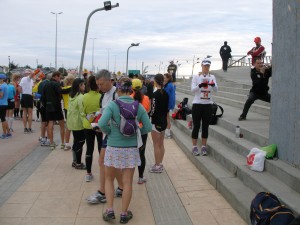 Boring but unusual Marathon
Seen in isolation, the Punta Arenas Marathon was the most boring marathon I have ever run. We ran for five kilometres along the pavement on one side of which there was traffic. At the end of the stretch of pavement, we turned round a bollard and ran back in the opposite direction. We did this four times. Although I describe the run as boring, it actually wasn't. Of course, it was very special to run on a new continent, which I had never visited before and probably never would again. That fact in itself represented a large carrot when it came to completing the distance. Before the run, I had decided that I would take my time. I would have no qualms about coming in last just one minute before the race was to close. But it didn't turn out that way.
Having been told by the organisers that the run might be interrupted early in order to set off for King George Island, I started at a faster pace than I had originally planned. It was now just a question of completing this run before it got interrupted. When I still had half a circuit to run, one of my travel companions told me that the organisers would be meeting the airline at 4 p.m., which meant that we had plenty of time. I then began to take things easier once in a while.
After 4:41 I had put 39 kilometres behind me, so I decided to quicken my pace in the hope of crossing the finishing line in under five hours. I did so with just over a minute to spare with a time of 4:58:54. I was very pleased indeed to have conquered my sixth continent and just hoped that I soon would have bagged my seventh.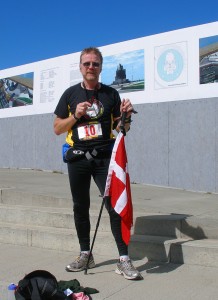 A tremendous relief
That evening, we gathered in the hotel restaurant to hear the organisers' plans. Steve arrived, and we all thought it was rather strange when he asked us to form two lines in the hotel corridor and then to stand with our backs to the walls leaving a space between the two rows. After a while, Steve raised both arms in the air and indicated that we should do the same. I was immediately reminded of childhood dancing lessons and wondered, if we were going to dance "Bro bro brille" – a Danish dance which is a bit like "London Bridge is Falling Down" – but we weren't. He started walking down the lines, giving high fives with each hand in turn to all the rather astonished marathon-goers. Then his face lit up with a big smile and everybody cheered like crazy. We were going!
We then went into the restaurant to hear more. There was only one chance left now, and we were to meet in the lobby at 1.30 a.m.
Having heard all about the plans for the following day, the prizes were distributed for that day's marathon in Punta Arenas. Accolade was given for the first, second and third men and women to cross the line in the marathon and half-marathon.
The big day finally arrives
We got up at around midnight on Wednesday 27th February, and I really thought ten dramatic days of quivering excitement would be over. But as I would discover later that day that was not to be.
The bus came to pick us up at 1.30 a.m. precisely, and an hour and a half after that, the plane left Punta Arenas for King George Island. We arrived there two hours later, and as I stepped off the plane, I immediately fell onto my knees and kissed the ground. For a week and a half I had been floating between hope and desperation, but now we had finally arrived at the great goal.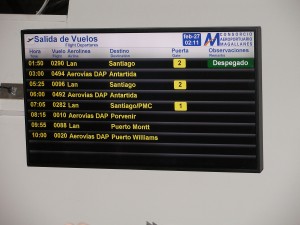 King George Island is the largest of the South Shetlands and lies 120 kilometres from the Antarctic mainland. The island is uninhabited as such, although a number of countries have bases there.
Arrival in the dark of night
We landed on the island at around 5.20 a.m., and since we could only be there for six hours, we had no time to waste. We walked a kilometre through the dark to the area where the marathon was to start. Some of the runners had brought headband lamps with them, but there was no need for them. We were soon to experience an awesome sunrise with the most glorious red light on the horizon.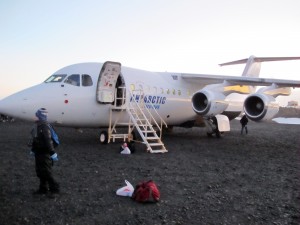 As the race began, I could feel how tired I was. The previous day's marathon was still in my legs. But as I got going, I gradually shook off the discomfort.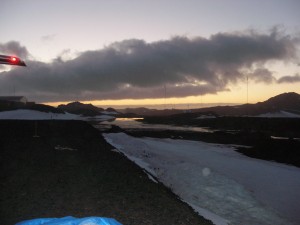 Proper preparations
This marathon also involved running several laps of the same course. We were to run three and a half kilometres in one direction then back to the start and would do so six times.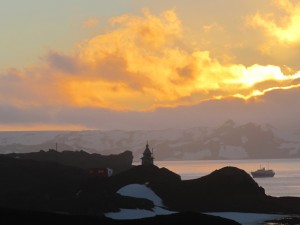 Comparing actual conditions to what I had read back home, I was not surprised, and my training in the woods at Boserup had set me in good stead. The course took us along dirt roads; a stretch surfaced with stone chippings and in several places across ice floes.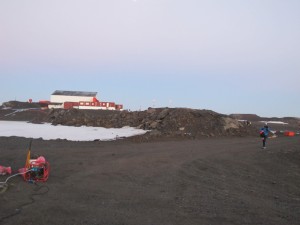 I had expected to experience rich animal life during the run, but there wasn't much there. I only saw a couple of penguins and seals, but I wasn't disappointed. All in all, it was an indescribable experience.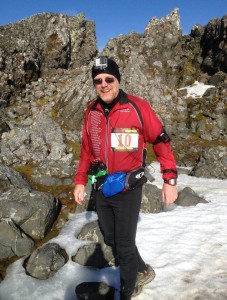 Shoes full of lead
As I approached the start for the second time, the temperature had just crept above freezing, which became a bit of a nuisance. The approach to the start was up a dirt ascent, and as the sun had come up, the frozen soil had not only thawed, it had turned into mud of the kind that sticks to the bottom of your shoes. Whereas to begin with I had felt relatively light of foot, it now felt as though my shoes were full of lead. My feet got very heavy, and there was nothing I could do about it. It was impossible to knock the mud off, so I had to accept things as they were. Having rounded the start, I had to run across the mud again before I reached a place, where I could hop up and down in a puddle and scrape the mud off on the stone chippings. I did the same every time I passed the start.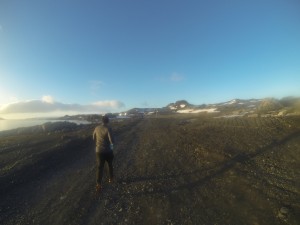 Optimism
On the fifth and penultimate lap, I was happy and glad. I was doing well time-wise in relation to the six hours we had been told we had, and my legs were in good shape. Up to that point, I had been taking photos and video with my GoPro®, which I had on a headband. Towards the end, I decided to run with my full-size camera and video in order to secure some even better photos.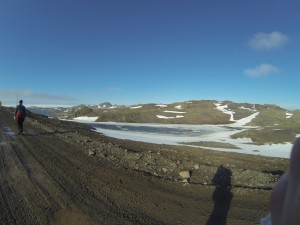 Catastrophe strikes
After finishing my fifth lap in good time, I was as pleased as Punch. I only had one lap to go and nothing could go wrong – or so I thought. It was then catastrophe struck. In the run-up to the finish stood a Chilean official and said I had finished. With a smile, I told her I hadn't, but she insisted. As it turned out, the weather conditions had taken a turn for the worse, and the run would now be interrupted. I was speechless. However, Elisabeth was standing at the finish and was able to confirm the disheartening news.
Resourcefulness
I could have thrown myself to the ground and wept, but I decided on a more creative approach. I was aware that there were still runners on the course and that they had to pack up. So without hesitating, I took my bags, ran up to the aircraft and put them down on the runway, after which I started running back and forth along the dirt track to the finish. I had nothing to lose.
After me I soon had a tail of runners, who had twigged was I was up to. First one, then another asked how far we had run. I answered them to begin with but before long it became too much for me. I couldn't keep count of it all and certainly not get my mind around to answering their questions in English or converting my kilometres into their miles. In a possibly hopeless struggle with time, I continued in the hope of making the 42.195 kilometres, while we were still on that continent. I realised that my performance might not be recognised, but to me it was simply a question of completing a marathon on the White Continent – official or not.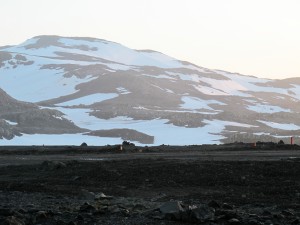 Six runners were following me, and we ran out onto the runway, my intention being to turn at the end and run back again. But then some airport personnel came along in a 4×4 to tell us that we weren't allowed to run there. We ran back to the area, where the other runners had gathered in a large group. My idea was to turn there and run back towards the aircraft, but this attempt was also thwarted. A local female official forbade us to run off any more. We had to stay in an area which was the size of a fairly normal garden. So we started running around a square of perhaps 25 x 25 metres. I got more and more stressed because I could sense that we were running out of time, and I still had a way to go before we reached our goal.
Before long, we were all asked to board the aircraft. We ran almost up to the aircraft only to run back again to take up the rear. My plan was to keep doing this for as long as possible, but this was also forbidden. We were quite simply ordered on board the aircraft.
In the end, it was almost as though we were in the grip of civil disobedience. This was pure and simple force majeure and every trick counted, so we began running along the side of the aircraft. There was hardly more than 25 metres before we had to turn round and ran back the same short distance. We continued in our hectic fight against time.
Absolutely the last moment
The last runners were about to reach the aircraft, and the female official was now really tired of this. I wondered whether they might tie our hands behind our backs and physically manhandle us onto the aircraft, but things didn't get that bad. In the end, I despondently picked up my two bags and started to walk up the steps to the aircraft. At precisely that moment, my GPS watch registered the full marathon distance. Tears running down my face, I came to a standstill and realised that we had achieved what we had set out to accomplish. The six of us who had run the final stretch together gave each other big hugs, but there wasn't much time, and we had to hurry aboard the aircraft.
I sat down in my seat. Inside I was in an indescribable state. I didn't know whether to laugh or cry.
Official approval
One of the others who ran the final seven kilometres approached Steve and explained what had happened. Steve called me to his seat, and I showed him my GPS watch. The documentation was good enough for him, so all six of us had our White Continent Marathons approved with an official time of 5:33:02, although we probably did it approximately ten minutes faster. I hadn't switched off my GPS when we stopped running, so it had kept on ticking. But that was irrelevant then and at any time in the future. What was crucial for me was that I had completed this spectacular run, ten minutes more or less were neither here nor there.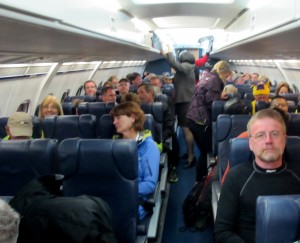 Back at the Hotel Diego De Almagro a few hours later, the six of us received our medals in the reception. It was a moving moment indeed.
Consolation run
Later in the afternoon, the other runners were allowed to complete their marathon after an interruption of four hours. They ran on the same stretch of pavement on which we had run an official marathon the day before. Their performances were probably not approved as an official marathon on Antarctica. I'm no judge of that, but it must have been some consolation for not having had the chance to finish the job on the island.
Half a day with very sore feet
That evening, we met up for the gala party in the hotel restaurant. We weren't all there, however, because one runner was still struggling to complete the day's marathon. An American by the name of Eddie had been rather reckless. He had turned out as a barefoot runner but had obviously not thought the whole thing through. After running a couple of laps across the sharp stone chippings, Eddie's feet were bleeding and in a proper mess. He had, therefore, continued in running shoes and not surprisingly, he was one of the people, who didn't manage to cross the line on King George Island before the run closed. He was in such a bad state that he was unable to run, but teetered along on his very sore feet. Eddie was, therefore, the very last person to cross the line that day. In actual fact, he came in more than four hours after the second to last runner. A group of us went out to receive Eddie with cheers and applause when he finished his run later that evening with a time of 11:22:55.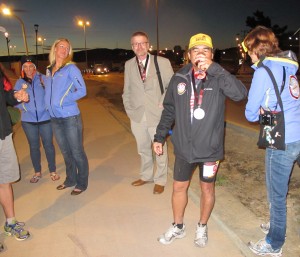 A visit to Argentina
We were to have run the Punta Arenas Marathon on 28th February, but since everything had been turned upside down we had already done so. Although we quite easily could have done with one more relaxing day without too many activities that was not the way, it was to be. Early that morning the bus departed to take us on a long but exciting day trip.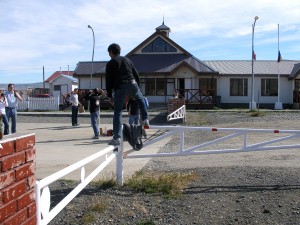 The first stop came after a few hours' drive, where we were able to get out of the bus to stretch our legs and buy something to drink and a few souvenirs. We had actually stopped right by the border with Argentina, so we also got the opportunity to set foot on that country's soil.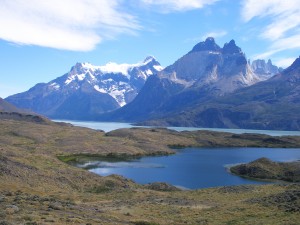 Torres Del Paine
Throughout the day, we arrived at one alluring landscape after another in the Torres Del Paine National Park, which is one of UNESCO's heritage sites. Everywhere you could see magnificent, snow-clad mountains, blue lakes and a good few animals, too.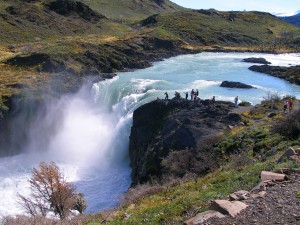 At a restaurant where we had lunch, prizes were given out for each category in the race of the day before. I was called to the front together with two others to be honoured for our completion of marathons on the seven continents. Later on, we came to a fabulous waterfall and bears cave in the rocks. Altogether it was a fascinating trip.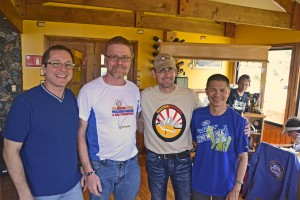 Relaxing conclusion
After a couple of extremely hectic days, it was great to have a well-earned day of rest. Nothing was planned, and many of the participants had already left for home. So Elisabeth and I were refreshed and relaxed when we got up already at 3.30 a.m. the following morning to begin our day-and-a-half journey back to Denmark. This final part of a highly dramatic trip was nice and quiet, so we arrived home to the Danish spring saturated with experiences for some time.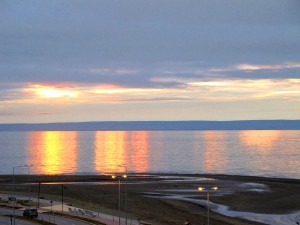 In the media spotlight
Not many people can boast of having run marathons on all seven continents. Thomas Thomsen and a press officer of Roskilde TRI both suggested that the story should be released to the press. I wrote my own report of the trip which was later quoted in both Roskilde newspapers and just less than two months later I guested a live broadcast on TV2 Lorry/Lounge.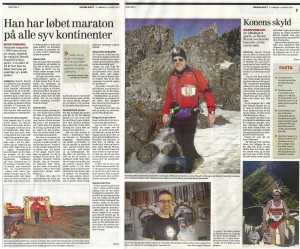 Buy the book here.