The dubious year provided new opportunities
Since 1999, Albatros Travel Adventure Marathon has hosted marathons on five of the world's continents. By the beginning of 2020, I had traveled with the company to 32 race events.
In the early spring, I became aware that there will hardly be any race trips this year. It looked like it would be the first year since 1998 that I would not get out on the classic distance. I got this thwarted by arranging "Peoples Park Marathon – Together Separated".
The summer should show that Adventure Marathon did not give up so easily. For the first time they arranged a marathon in Denmark. Had I known that before, my Peoples Park Marathon would hardly have turned into anything. It was good I was not aware of the later action.
The debut at home was to be in the eastern part of the country, on the rocky island of Bornholm, also called "Sunshine Irland". "Marathon on the rocks" was marketed, and I immediately signed up.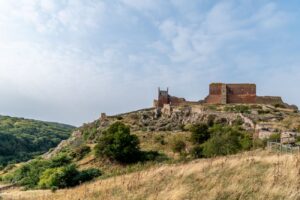 The journey to Bornholm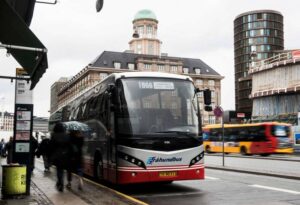 Saturday, September 12, was race day. I signed up for a trip with attendance two days before.
On Thursday, my wife drove me to the heart of Copenhagen, right by the main train station and Tivoli. Here I boarded the Bornholmerbussen – the so-called Greyhound Bus. As time dictated, it was wearing a regulated facemask.
About an hour and a half later we arrived at Ystad in Sweden. Here we boarded the boat to Rønne. Again, facemasks were needed. After a few pieces of open sandwiches and time for reading, we arrived in Rønne a little before 2 pm. Immediately I was in good hands when Gitte from Albatros met me by car.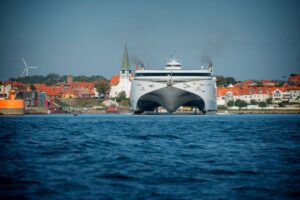 Skovly and a good evening in Rønne
Cozy Hotel Skovly is located, as the name suggests, in the woods. It is about 6 kilometers from Rønne and 5 kilometers from Hasle.
I got a very satisfying room where I quickly got things in place.
At 6 pm I showed up in the parking lot. Here Albatros Travel had arranged a bus to Rønne. We were a dozen pieces that accepted the offer.
In the city we were seven who found together. I was the only Dane. The others were Germans, Austrians and a Dutchman. Together we found a place to eat. It was not easy as we were a slightly larger group and corona restrictions set its limits.
After a few cozy hours and good food, we found our way down to the meeting place, where the bus drove back to the hotel. Soon after, it was bedtime.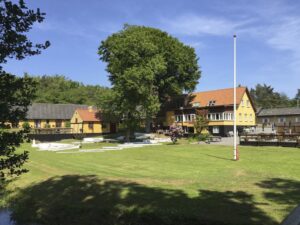 A relaxed day with pasta party in the evening
Friday I spent at the hotel grounds. Most of the time I spent on work assignments in the room. The hotel only offered breakfast, but this day a pasta party was arranged for dinner.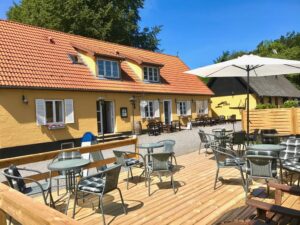 Race day in beautiful weather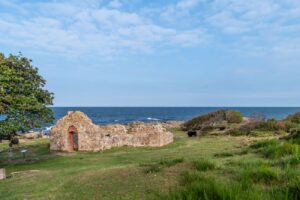 The race day started for me at 5 am with morning preparations. An hour later it was breakfast and another hour later the bus went to the harbor in Gudhjem, where we gathered with the other marathon runners who did not live in the same hotel as us. The half marathon runners started somewhere else.
At 8 pm the race started. Despite injuries over the summer and therefore not much training, I was in good spirits. Just as expected, I soon ran last of the runners, which I always feel fine with.
I had come to the delusion that the hardest part of the race was in the first part. There were also quite a few climbs, but I was in good spirits. The Adventure Marathon was no stranger to me.
It was a hilly terrain. We came to heavy beach sand, forest paths with tree roots and stones, as well as pieces of rock that had to be climbed. It was a tough route. It was not only tough, it was also beautiful. The weather was great. A clear sky in nice sunny weather was breathtaking. During pretty much the entire route, we had the water on hand. To that extent, we were on the pearl of the Baltic Sea.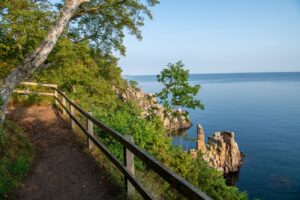 Surprisingly hard route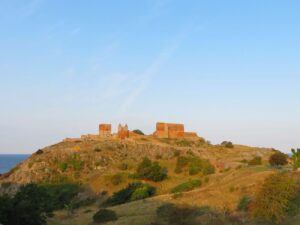 When I reached halfway, I thought that now it was getting easier. A woman met me. She told that it got worse even until Jon's Chapel. She was right that it got worse. I was looking forward to Jon's Chapel, but the hard route didn't seem to end there.
Three times during the race I was about to stumble but got my balance back. In turn, it triggered cramping in the thigh two of the times. Fourth time I fell as long as I was, and got punched in both knees. However, I got up and continued.
The hilly terrain was finally over after more than 30 kilometers. At that point, I had walked a lot and it continued. I was tired and a strong wind from the water side did not make it any easier. I could see on the clock that I would not have problems with time.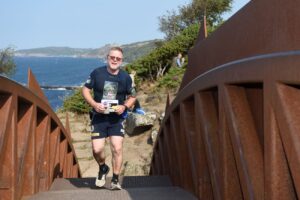 Happy end with sausages and beers
After 7:43 I finished the race, 17 minutes before the deadline. Tired and happy, I was presented with my medal. Afterwards, grilled sausage with bread and beer was served.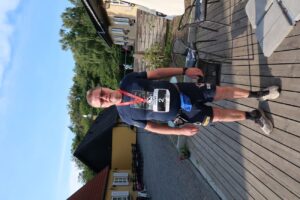 A cozy evening with rain from above
A much needed bath did well. Tired of body, but satisfied I was ready for tonight's event, which took place on the hotel terrace. A wagon had driven into the courtyard. Rib sandwiches, sausages and drinks of various kinds were served here. Many old acquaintances from Albatrosture had turned up, so it was some really nice hours.
The day had been beautiful. It was the start of the evening too, but then came the rain. We had to hide under shelters and parasols. However, this did not ruin a good evening. It was not too late until I got tired and went to rest.
After Sunday breakfast, I got packed up for departure. Late in the morning I was driven to the ferry in Rønne. From here, the trip went the opposite of the travel tree days before, until I was in Copenhagen in the middle of the afternoon.
A repeat is welcome
The year that should have enriched me with a marathon seemed to give no one, but then ended with two."Marathon on the rocks" became a real adventure marathon, in class with "The Great
Wall Marathon". I'm really happy to have that experience too. It is rumored that the race is here to stay. It will not be unlikely that I will return to "Sunshine Irland" and more hardships.