At the Great Wall Marathon in 2000, I made the acquaintance of a woman, whom I would look forward to meeting year after year.
In the marathon's debut year, only Danish runners competed, but one year later runners of eight different nationalities took part. Although the event was still predominantly Danish, with almost three quarters of the runners coming from my home country, seven of those who completed the run were from the United States, among them Kathy Loper.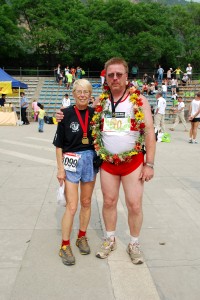 I met Kathy about a third of the way into the marathon. She was a slim, well-trained woman in her late fifties. We were running at the same pace on the asphalt road and started chatting. I don't remember what we talked about, but it was unlikely to have been anything deeply intellectual. It got really hot that day, so most our energy would have been spent on moving forward. It was the year I got blisters on my feet, so after a while I ended up walking and watching Kathy disappear over the horizon.
When I arrived at the finishing line, I heard that Kathy's arrival at the finish had been kind of dramatic. On crossing the line, she immediately collapsed. She had to be given a drop and was admitted to hospital, where she remained for two days.
Now you might think that, on that count, Kathy might have been finished with The Great Wall Marathon once and for all, but that was far from the case. At that time, she had run her business, Kathy Loper Events and International Running Tours for ten years or so. Now the company was going to take American tourists to the "marathon on the Wall" and 2001 was the first year Kathy took a group of tourists with her to the Middle Kingdom.
Kathy has been in China every year since 2000. She has not run the full marathon since the rather dramatic event in 2000, but over the years she has run both the half-marathon and the ten-kilometre run. She was not able to run at all in 2010, because she was confined to a wheelchair. A detail like that was not, however, going to stop her travelling with her protégés.
Meeting Kathy is always a happy affair. She has on several occasions given me T-shirts advertising her company, and I have made good use of them. I've also had the great pleasure of her company in Australia, and I took part in the double run White Continent Marathon and the Punta Arenas Marathon, as well, both with Kathy Loper Events.
Buy the book here.