Busy run-up
I set off for the 14th edition of my own special marathon with a hunch that things were going to go well, although not with the same level of conviction as the year before. Some of the kilos, I had lost had found their way back again, and I had been particularly busy at work and therefore hadn't spent as much time training. Travelling to Chile had also taken up a couple of weeks in my calendar.
Reunion with Jamie
We landed at Beijing Airport on the morning of Wednesday 15th May, where we immediately found familiar faces. Our guide was Jens Peter, whom I got to know the year before, and Jakob was there as well as a guide for another group. And then there was a reunion with Jamie after two years. A job had taken her away from Beijing in 2012, but now she was back. The hotel was also familiar: I was very pleased indeed to be back at the Qianmen.
Jamie had already organised an evening for the two of us. We drove to her former college, which we also visited two years previously. This time we enjoyed a delicious meal, finishing off with Peking duck in the company of old friends and her former teachers.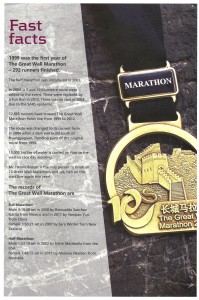 Back at the Yuyang
After inspection day at the Wall on the Thursday, we arrived in Jixian, where we once again were to stay at the Jixian Yuyang Hotel. There were problems with the Internet as always, although this time they were solved. Whether the hotel had actually improved over the years, or whether I had simply become accustomed to the standard is hard to say. But that year I thought it was actually very nice to stay there.
Not much happened on the day before the marathon. Jamie and I went for a run, but otherwise spent most the time relaxing. After the evening pasta dinner, Jamie and I went out with her girlfriends for a stroll around town and enjoyed ice cream at a cosy restaurant.
Fantastic running weather
On marathon day, 18th May, we were blessed with the best possible weather ever. It was not cold in the morning, which may have betokened a hot day. But this was not the case.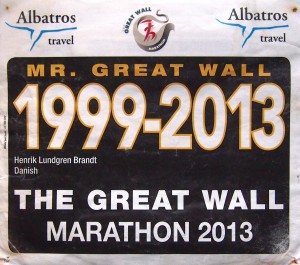 I intended to run with my GoPro® camera headband throughout this marathon, just as I had done for the two races in February, and Francis from www.marathonphoto.com asked if he might have a copy of my video footage after the run. He was going to make a video and believed that my footage would make a good contribution. In return, I would be given photos of myself taken during the race.
Start delayed
The start of the marathon became unnecessarily hectic. Jamie had one of her girlfriends with her, who was going to video us during the start and look after our bags, so we didn't have to leave them at the repository. But just as we were about to start, the girlfriend disappeared. It turned out that she had gone to the toilet, so we had to wait for her. We were to have started in group 1, but had now been delayed by a couple of minutes in relation to the official start.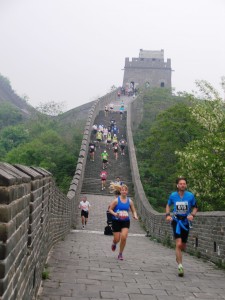 Stronger than Jamie this time
Jamie and I ran together as we had done two years previously, but this time I was a stronger runner. She slowed to a walk quite early in the race, and I had to wait for her several times. Shortly after we had crossed the Wall and passed Yin and Yang Square, I lost sight of Jamie and didn't see her again before she crossed the finishing line that afternoon.
Although it would have been nice to run together with Jamie, it was also a relief to be able to run my own race. From then on, everything surpassed my expectations. The weather was fantastic. It wasn't hot but slightly cloudy. Absolutely perfect. There is not much to tell about the run itself. Everything went completely according to plan. I had no crises and was in high spirits all the way to the finish.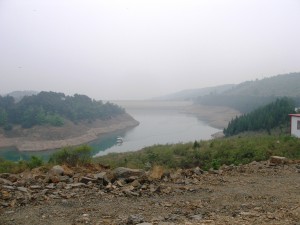 Blind runner
On the way down the last steps on the Wall, I passed two very unusual Japanese runners. One of them was blind and was running with a white cane, and the other was his guide. You could hear the guide's voice all the time as he precisely guided his partner down each of the steps.
The easiest Wall ever
My second crossing of the Wall went well beyond expectations. Never before had running The Great Wall Marathon been so "easy". On the way down the mountainside, I rolled along as though it were child's play. Halfway down, I treated myself to a little walk and some fluid, but otherwise I ran all the way.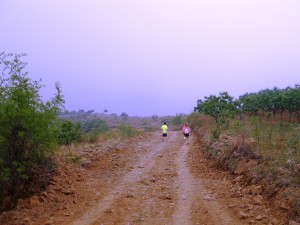 I was "unreasonably" fresh when I crossed the finishing line. It was wonderful that Thomas once again was the person, who hung the medal round my neck after an absence of three years. My time was 6:23:35, my third fastest ever. This seemed incredible, considering neither my state of training nor my weight were optimal.
Jamie also had a good run, crossing the line in style three quarters of an hour after me.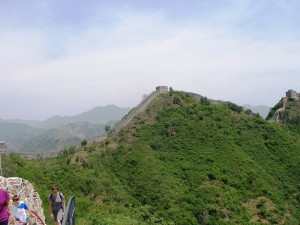 Three winners
The finish of that year's marathon was unique. Most unusual was the fact that there was not just one winner, but three. What was more, they all beat the all-time 1999 record, which no one believed could be beaten. Jorge Maravilla of the United States, Dimitris Theodorakakos of Greece and Jonathan Wyatt of New Zealand crossed the line together with a time of 3:09:17. That they crossed the line together was no coincidence, and this was not the first time they had run together. They were a tight-knit trio and ran in identical running kit.
More than 2,500 runners from 54 countries participated in that year's three distances.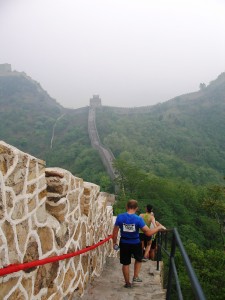 Vital Internet connection
Back at the Qianmen Hotel I had trouble getting onto the Internet. On this particular night, I really wanted to get onto the net and with a little technical assistance the problem was solved. After taking a bath and having a bite to eat, I went to bed. But not in order to sleep all night long, because I had other plans.
I had set my clock to wake me up in the middle of the night and woke up before that of my own accord. It was a historic night, which I did not want to miss.
Only Teardrops
Many Eurovision Song Contests had been held while I was in China. This had previously been of no consequence to me, but 2013 was entirely different. Earlier that year, a very young and unknown singer, Emmelie de Forest had won the Danish Melodi Grand Prix, which determines the country's representative for Eurovision contest, with the song "Only Teardrops". The song had taken Europe by storm in the months that followed, and bookmakers agreed that she was the top favourite for the final victory.
I had happy memories of the Olsen Brothers' victory in 2000 and had no desire to lie asleep in a Chinese bed while something similar happened back home. I simply had to watch that show. The hotel had a vast number of TV channels, and I checked them all in the hope of finding the big international show on one of them. As I had feared, however, all the channels were Chinese. I had the same time been searching on my computer and had come up trumps.
The Eurovision Song Contest began at 3 a.m. Chinese time, which was 9 p.m. back home. I had completed my marathon and could, therefore, commit myself the luxury of red wine and snacks. I found out that the quality of the songs that year was pretty good, which meant tough competition for our own little darling.
As number 18 out of 26 participants, Emmelie entered the stage in bare feet to perform her song, accompanied by the flute and drum played by two lively young men from Copenhagen Drummers. It was fantastic. I was biased, of course, but I really did think that this was the best song of the evening.
Teardrops and jubilation
After a few hours, the voting began. It was soon evident that Denmark was being ranked number one time after time, with Emmelie taking the lead and keeping it all the way through to the final victory. I cheered and wept as she re-entered the stage to be declared that year's winner of the European pop music championships.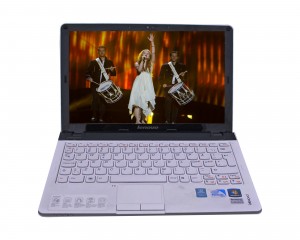 After that night's music show and the run of the day, before I slept until early afternoon, and before I knew, it was evening, and I had to leave for the traditional gala party with the subsequent visit to Bar Blue.
Cancer! Drove me up the wall
Monday morning, it was time for my group to fly home. Richard Lanigan and I were the only people from the group, who would be staying longer in China. I had already noticed Richard at Copenhagen airport on the day we left, because he was wearing a T-shirt with the logo of The Great Wall Marathon on it. But above that stood: "Cancer! Drove me up the wall". On the days that followed he wore similar T-shirts only with different background colours. I had become interested in Richard's story and had been asking him about it.
Richard is an Irishman, who lives in London. In the 1970s, he had lived in Denmark and was, therefore, able to understand our language, although he preferred to speak his own mother tongue. He had been a member of our group because he was travelling with Danish friends.
A year earlier, Richard had been diagnosed with cancer and told that he didn't have long left to live. But despite his disease – or perhaps precisely because of it – Richard decided to complete The Great Wall Marathon, and that at a time when he was barely able to run 100 metres. People in his social circle shook their heads, but Richard had the necessary will and faith, which are, of course, the most important – "If you can dream it, you can do it".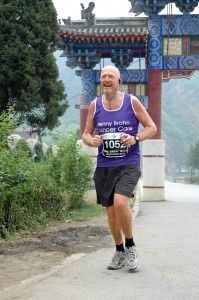 Richard's inspiration for this crazy idea was the cyclist, Lance Armstrong, who having been diagnosed with cancer made a comeback and achieved fantastic results as a cyclist, even though the doping spectre had rather taken the shine off the American's reputation.
We fell into conversation after the others had left. Richard told me that he was writing a book and was on Facebook with the group "Cancer! Drove me up the wall". Richard raises money for "Penny Brohn Cancer Care" to support children with cancer. He also spoke of publishing a book about his struggle from a cancer patient under the threat of death to an athlete running the world's toughest marathon. This got me thinking.
The inspiration for a book
Over the years, I had been telling time and time again anecdotes about The Great Wall Marathon and other runs, I had completed around the world. I had done exam projects, written articles and held lectures, as well as doing radio and TV interviews. The trouble was, though, that I never managed to tell my whole story. I was always able to tell people how I started and perhaps another fragment of the story. But now I was dying to tell the full story of how a sofa athlete became "Mr Great Wall" and marathon runner on the seven continents. I told Richard that I also fancied writing a book, and he urged me to do so. A few days later, I had written the first words of this book.
Those unreasonable free pleasures
Being "Mr Great Wall" may have given me contacts I otherwise never would have had. On that year's last evening in Beijing, I was walking round the side streets looking for a place to eat my last supper of the trip. There, I fell into conversation with a young couple, who recognised me. We went together to a restaurant they recommended and had meat and vegetables cooked on a small table-top barbecue. It was absolutely delicious. When the bill arrived, I was not allowed to pay my share. That was a lovely gesture, though it had been quite unnecessary. I am neither royalty nor a rock star, though it does feel that way sometimes.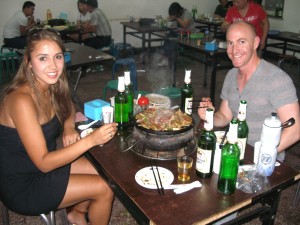 Buy the book here.