Doubtful participant
This, the ninth of Adventure Marathon destinations, was the first about which I had my doubts. The run was announced in the autumn of 2012 before we ran the Solar Eclipse Marathon. This meant that there were two new marathons in the offing rather than just one.
My doubts were due to a variety of reasons. I had previously tried the combination of temples and a marathon, and though The Great Tibetan Marathon had been quite an experience, an entirely different kind of novelty would have been much more attractive for me.
Another consideration was the extent to which I could be egotistical enough to travel on my own using family funds. I had already been on an extended trip to China earlier that year, albeit together with Karin. But now I had the prospect of a very long trip to Australia, in which the boys were also invited to partake, and less than six months after, that I would be off to China again. My doubts were not exactly allayed by the fact that I had decided to travel to Chile and Antarctica to run there, too.
My doubts were now further exacerbated by the fact that I had fallen ill less than five months before the marathon and been given a pacemaker. For a whole month, I had been so exhausted that I required rehab. At that time, another marathon seemed far away.
But in the midst of my doubts, there was a voice telling me I couldn't possibly miss an Adventure Marathon debut run. This book was certainly instrumental in my final decision to go. Without this trip, an essential chapter would have been missing.
Myanmar
The Bagan Temple Marathon was run in Myanmar, formerly known as Burma, situated in south-east Asia bordering on Bangladesh and India to the West, China to the North East, Laos to the East and Thailand to the South-east. The country is not particularly well-known in our part of the world. It has received a lot of press coverage because of the freedom fighter Aung San and his Nobel prize-winner daughter Aung San Suu Kyi, who spent many years under house arrest. The trip would show that this fantastic country has much more to offer than two celebrities.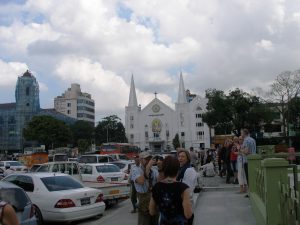 On my own for the first time
I travelled for the first time to a debut marathon without any of my loved ones, and like at so many of the other trips there were several travel packages on offer. I chose the shortest of them, which meant that I would be away from home for less than a week.
When I left on 30th October I wasn't in the best condition training-wise, but fit enough to convince myself that I could complete this race. Rehabilitation after the operation had gone well, although I had not fully recovered. With the risk of sounding supercilious, I actually thought: "Running a lousy Marathon should be easy enough". A bit snooty, you might say, but for a person in my situation it was invaluable.
Family gatherings a thing of the past
I had previously felt that the family party atmosphere of the marathons was firmly in the past, and that was certainly the case at this event. Already at the airport, I discovered that I was the "last Mohican". Although I recognised quite a few people from previous Adventure Marathon destinations, none of the pioneers from the first years around the millennium were there.
Although the old crowd was not there, I was in no doubt that I was part of a good, homogenous group of people, who loved running spectacular marathons. There were 26 of us altogether plus a travel guide. Some, like me, would be going home after six days, while others would be going on an additional tour, some of them even on a few days bathing holiday afterwards.
Prejudices confirmed and disproven
I had expected the country to be rather backward and not particularly civilised, and at the airport I found there was no mobile coverage for non-residents because they had no roaming agreements with foreign owned companies. Entering the country was slow and bureaucratic, with checks of passports and visas. After that, however, I was only positively surprised by conditions in the country.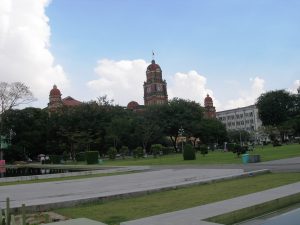 Yangon excursion
Yangon is Myanmar's biggest city and was the country's capital from 1885, when the British conquered the north of the country, until 2005 when the entire state administration was moved 320 kilometres northwards to the town of Pyinmana.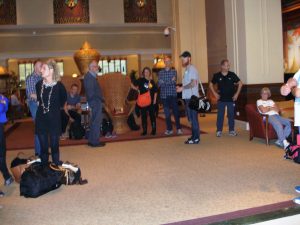 Our only overnight stay in Yangon was at the excellent Traders Hotel. Just a few weeks before our arrival, the hotel had been attacked by terrorists. Foreign businessmen had been staying there, and their presence was not welcomed by everybody. There had been explosions, but we saw no evidence of them.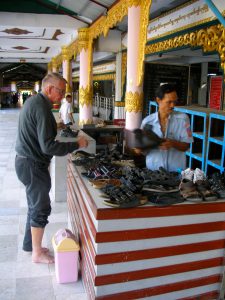 We visited many of the city's sights on our day of arrival. First we visited the city centre, where we were surrounded by street sellers, who wanted us to buy all sorts of things, particularly postcards. Most unusual was the fact that you could buy a bird for five dollars. When a tourist bought a little bird it was released and flew up into the air. Now, five dollars less well-off, the tourist had done his good deed of the day. Whether the release had any religious significance, I don't know.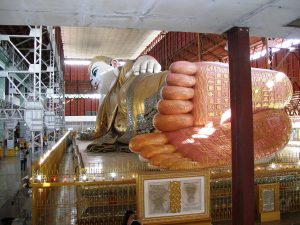 We were, of course, expected to show respect at the various holy sites. On our arrival, we took off our shoes and covered our shoulders and lower legs. Our first visit was to the Chaukhtatkyi shrine with its impressive 67-metre long reclining Buddha statue – the biggest of its kind in South-east Asia.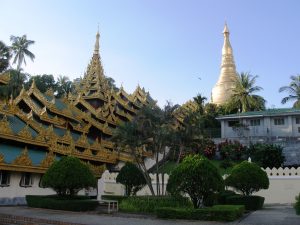 The Shwedagon Pagoda
After this, we continued on to the most famous of Yangon's buildings: the enthrallingly beautiful, gilded Shwedagon, or Great Dragon Pagoda, on the holy Singuttara Hill dominating the skyline. Wherever you are in the city, you can orientate yourself in relation to the 98 metre high pagoda which, like a lighthouse, keeps people on the right track. According to legend, the Shwedagon Pagoda is 2,500 years old, although some archaeologists believe it was built between our sixth and tenth centuries. The pagoda is the country's most important Buddhist shrine and is visited by many thousands of pilgrims every year. It is said that it was built to protect eight hairs from the head of Buddha himself.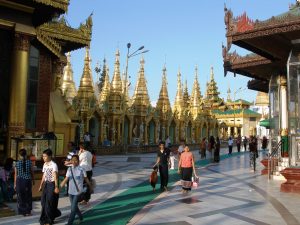 It was fascinating to walk around the Shwedagon pagoda and see all the gilded structures. It was almost as though we were in part of Disneyland. They had disfigured parts of the charming ancient surroundings with distasteful modern blinking coloured LED lamps.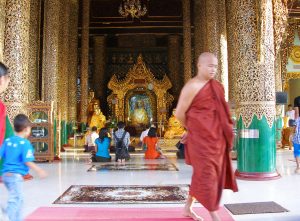 Bagan
Our visit to the big city was brief, as we left the following morning by domestic flight to our actual destination: Bagan. Our hotel, Myanmar Treasure Resorts, was beautiful and very charming.
The 42 square kilometre Bagan Plains are home to more than 3,000 historic temples. Huge, characteristic pointed golden pagodas pop up from the flat landscape as far as the eye can see. It has a mystical unreal tinge to it.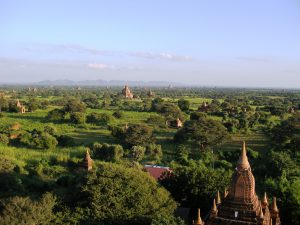 The first temple on the Bagan Plains was built in 1057. One king after another built one temple after the other until Kublai Khan's Mongolian troops conquered the area 230 years later. They had managed to build 4,400 temples and, despite natural challenges such as earthquakes, floods and erosion, the vast majority of the temples survive today. The area is now a candidate for UNESCO's Heritage list, though a dispute between the authorities and UNESCO about how the structures will be renovated has put the process on standby.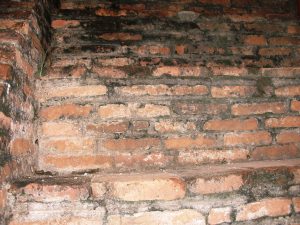 Sunset and pasta party
In the late afternoon, we visited one of the many temples on the plane. I could see that the steps on the Great Wall of China were child's play to what I could see and feel here. As we climbed to the top of the pagoda, we had to negotiate very steep, narrow steps, probably about 35 centimetres high. It was fantastic to see one temple after the other both close-up and further out on the horizon. We stayed there so long that we managed to experience that beautiful moment when the sun went down.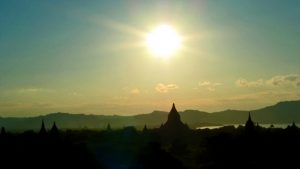 The last event of the day was the pasta dinner and briefing about the marathon for all the participants.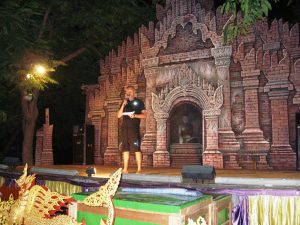 Bagan Temple Marathon
It is not unusual to be woken up at 4 a.m. on a marathon day, so the procedure 2nd November was entirely by the book. After we had got ready and eaten breakfast, it was time to be driven to the start at the Htilominio Temple, where we arrived early. I like to get to the start in good time. Absorbing all the impressions is part of the atmosphere. You have to see it all, feel and smell it. There also has to be time to talk to other runners and get it all under your skin before the race begins.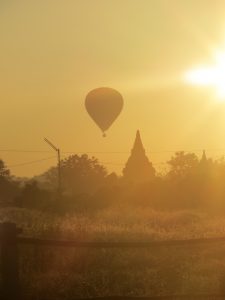 At the start, we experienced the morning sun, while six hot air balloons slowly climbed into the blue sky, a most beautiful sight between the pagodas.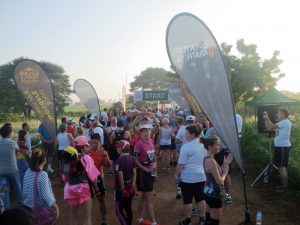 Shortly before the start of the marathon, there was an official speech by His Excellency U Htay Aung, the Union Minister for Hotels & Tourism, who wished us a good run. The starting pistol went off as planned at 7 a.m., and a very special atmosphere spread through the field. Taking my first steps always makes me high with expectation, while my inner computer ascertains that the finishing line is a long way off.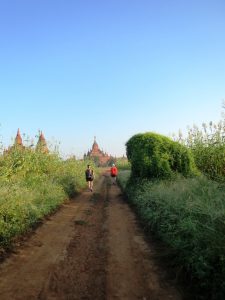 As we got going, I got quite a surprise. Contrary to expectations I was quickly running out of breath. It wasn't because I had started at too fast a pace, so I have no explanation for this phenomenon. After a while, however, I didn't feel so out of breath.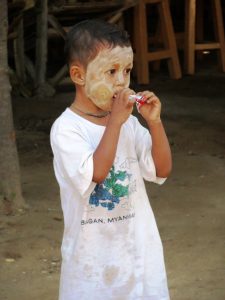 At the start of the marathon, we passed one temple after another. It really was very special running in such surroundings. Everywhere we ran, we were met by happy, warm-hearted and hospitable locals, who were very supportive. The children were very interested in it all, but unlike in China I didn't experience them slapping high-fives with their tiny hands.
Flashback to the Great Wall Marathon 2000
A few days before the marathon, it had been raining very heavily, and the organisers had been extremely concerned. The course had been flooded and muddy in some places. Passage had been impossible, and there were no real alternatives. However, the strong heat had caused the water level to fall visibly every day. Now it was just a question of hoping that there would be no new heavy rainfall.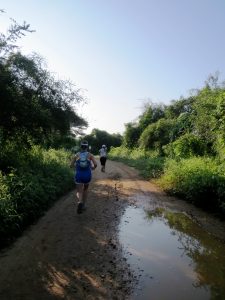 Although the worst of the mud had dried out there were a few places early in the run where we had to leap zigzag to get across. Although I did my utmost, I didn't succeed every time. On a couple of occasions, I went straight in and got wet feet and muddy shoes. Not surprisingly, I had a flashback to The Great Wall Marathon 2000 when I had carelessly splashed water all over my body and got wet feet, resulting in blisters. I was naturally concerned that this might happen again. However, whereas, in 2000, it was my own fault because of ignorance, this situation was not one I was in control of.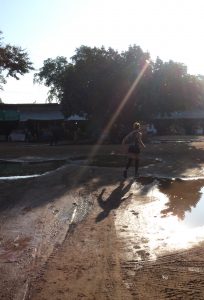 A scorching hot day
As expected, it got very hot. The temperature rose to 36 degrees Celsius, which was a bit of an ordeal. Of course, I was no stranger to running in the heat, but that kind of thing never becomes pure routine.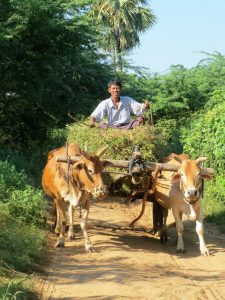 Although the run was gruelling, it was generally more of a pleasure than an ordeal. Most of the course was along dusty dirt tracks and paths. The first section and the end were in the temple area while the rest of the marathon took us through the surrounding villages. I had to stop several times to make room for a shepherd and his flock to pass, and once I had to pass through the middle of a herd of cattle. The village dogs were not at all used to oddballs like us, so we were often met by barking. They weren't aggressive, however, and kept their distance for their own safety's sake.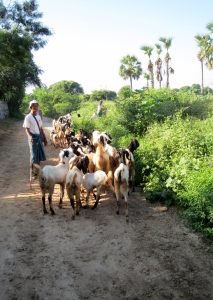 Much-feared blisters
My pacemaker operation a few months previously and the subsequent physical dip were noticeable on such a long run in extreme conditions. However, I was always in good spirits and convinced that I would complete the run. As I got closer to the finish, I became convinced that I would be able to cross the line in under six hours. That was not to be, however.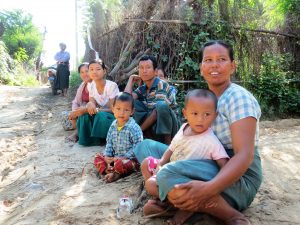 After about 35 kilometres, I could feel that my feet were not in good shape and that there had to be blisters. My concern had become a reality, though fate had shown mercy on me and spared me trouble until the last part of the run. I had to shelve my ambition for finishing time under six hours. Now it was simply a question of getting across the finishing line, which never became a problem.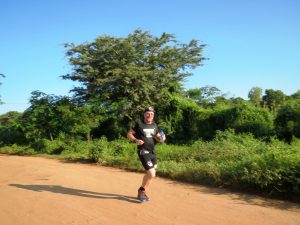 Much of the last part of the course was on asphalt roads although we were back on tracks past characteristic temples as we approached the finish.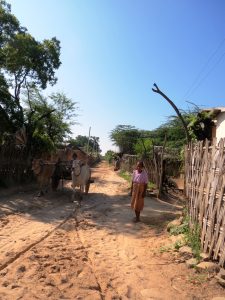 A wonderful gesture
I had a firm strategy. I would walk as far as possible at a time, and when I did run I would have to pay the price with pain in my feet. I was, however, determined to run across the line.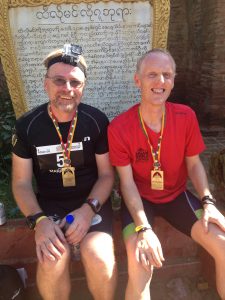 Half a kilometre before the finish, while I was still on the last section of asphalt road, I was met by Jan Petersen, who ran by my side and gave me encouragement all the way to the finish.
Jan had crossed the line precisely three hours before I did – and in fifth place, beaten only by four local elite runners. After that, he had received the runners from our group one after the other, re-running the homestretch at least ten times.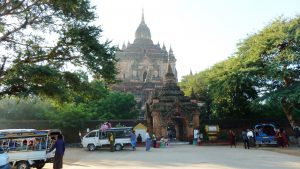 Jan is one of sport's gentlemen, as he demonstrated that afternoon. But that is always his attitude: glad, positive and sociable. He never puts on airs, and I have never felt inferior to him because of my comparatively poor physical performance.
A wonderful welcome
As we approached the finishing line at the Htilominio Temple, we were met by several members of our group, who gave us a warm welcome and applause. It is moments like these that make being a marathon runner so wonderful.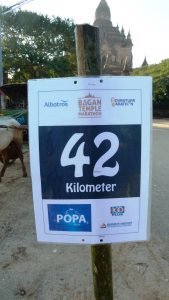 At the finish, I was also welcomed in style by Thomas. There was nothing special about that, but this never becomes trivial routine. It is a tremendous feeling every time.
My finishing time was 6:18:01, which was perfectly acceptable. I was incredibly happy to have completed my first marathon after being so low, and I was also incredibly grateful.
Busy medics
The medics Karin and Karin had their work cut out in the medical tent. The heat had taken its toll on many runners and several of them were lying there with drips when I crossed the line. One of the runners had got stuck in the mud and broken his leg. That was an annoying, disagreeable way to end the Bagan Temple Marathon.
Outing on the Bagan Plains
The day after the run, there was no time to rest on our laurels. We left on an excursion immediately after breakfast. We started the morning by visiting a small village where the women and children were weaving and looking after the animals. Many of the women were smoking pipes and cigars. They also succeeded in selling some of their cigars to the Nordic tourists. We didn't see much of the men. Officially, they were in the fields, although some said they were sitting in a cafe watching football. Sharing the work is always a good thing.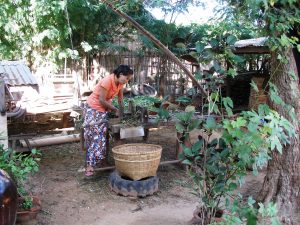 Our next stop was at the market, where the stalls were bursting with fresh fruit, vegetables, arts and crafts and textiles in all sorts of colours. Of course, the traders wanted to do business with us, but they weren't too aggressive about it.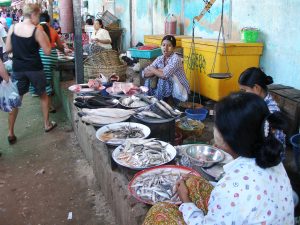 The time had come for our final temple visit on this trip. We had visited some of the area's most important temples, including the Shwezigon Pagoda, said to conceal one of the Buddha's teeth and a piece of his bone. Next stop was the Ananda Temple, a whitewashed masterpiece which combines Mon and Indian architecture. According to legend, King Kyanzittha had the eight monks who built it executed to prevent them building anything similar elsewhere.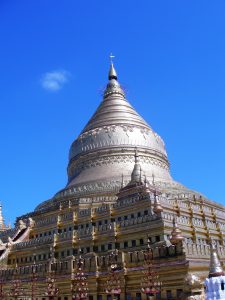 Our last temple visit was also to one of the largest on the Bagan Plains: the Dhammayangyi Temple built by King Narathu. He killed his father and brother to secure power, and it is said that he built the temple to atone for his sins.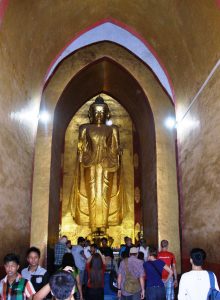 Walking round the temples in bare feet with blisters was not easy for me. I didn't want to miss out on anything, however, so I choose to take the bitter with the sweet.
After lunch, there were another couple of items on our agenda, but many of us chose to get off at our hotel to pack and charge our batteries for the evening's gala party.
Bagan Temple Marathon gala party
Sunday came to an end with the mandatory gala party, which was held outside our hotel. Entirely according to tradition, we enjoyed a delicious buffet while we were entertained by local musicians and artists. We were welcomed by a representative of the local tourist board. He was happy, proud and touched that this event had come to his part of the world.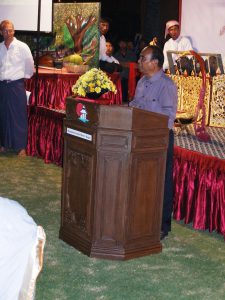 At the awards ceremony, we were able to ascertain that the local runners had more or less made a clean sweep. There were prizes for the three fastest runners in each of four categories. The vast majority of awards went to people from Myanmar, who seemed well prepared for the up-coming Asian Games. In all, there were 194 runners from 27 nations.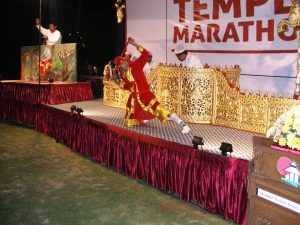 Day in Yangon
On the morning of the day of our departure, we flew to Yangon and enjoyed the last few experiences of this fantastic trip.
This time we were shown the southern part of the city, and during the bus tour a local guide told us a bit about conditions in the country. Things had changed since the time of the dictatorship, but an elephant must be eaten a little at a time, as the saying goes. From this, we understood that she was referring to human rights. As the guide put it, they now had partial democracy.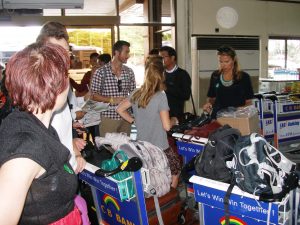 We also drove down to the harbour where, like in so many other places before, we were met by children selling postcards. They had difficulty being turned down, but were terribly sweet and charming. We had many weird experiences on board a ferry across the Yangon River. There were vendors everywhere, selling everything, newspapers, sweets, tobacco and toys. There were women with eggs in large dishes which they carried on their heads without holding on with their hands. Men hauled bicycles on board with hundreds of live chickens tied in bundles to the handlebars and luggage rack, while others lugged huge sacks of corn. On a bench lay an officer fast asleep. Life around us was an experience in itself.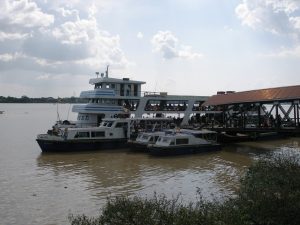 In the Dala Township harbour area, the noise and bustle seemed almost surrealistic, although things got a bit quieter the further we went up the road. We were driven by rickshaw along dusty roads full of potholes through villages and plantations. Here we visited an orphanage and saw how several classes were being taught by volunteer female teachers. Each class had one teacher and as many as 65 pupils. The state administration provided little support, so the orphanage and the school were financed by donations and led by Buddhist monks. We experienced lessons with happy, well-nourished children repeating sentences in chorus. It could well have been the alphabet, but we understood none of it. The conditions seemed poor, but the children were clean and presentable and wearing decent clothes. They appeared to be thriving.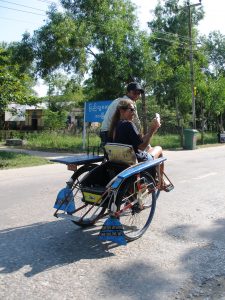 After the orphanage, we returned to the city by rickshaw and ferry before heading to the airport for our journey home to Denmark.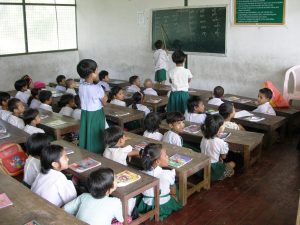 The doubtful journey that became a personal victory
I had entertained considerable doubts about my trip to Myanmar, but I was so pleased that I had made the journey. Running the 42-kilometre distance again represented a personal victory, which gave me back my faith when it came to running future marathons. It was a beautiful, inspiring country with a warm-hearted, hospitable population. I don't know exactly what I had expected, but my experiences during this trip of a lifetime had been positive in every sense.
Buy the book

here

.